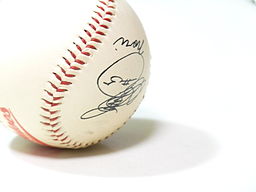 A three-year FBI sports memorabilia undercover investigation, known as Operation Bullpen, resulted in the breakup of the largest autograph forgery ring ever uncovered in the United States. That was 1999, yet 15 years later the dishonesty of those involved continues to cast a dark shadow over the autographed sports memorabilia industry.
The Industry Today
Autographed memorabilia is a very large industry today. It has recently been estimated to be $1.0 to $1.5 billion dollars per year. Baseball accounts for approximately 27% of that industry, or $270 – 405 million.
Unfortunately, when that much money is involved, there are individuals who try to take advantage of buyers through scam or fraud techniques. It is estimated that the size of the counterfeit memorabilia industry is about $180 million each year. Assuming baseball's portion is still about 27%, the baseball counterfeit market equals approximately $48.6 million per year. Obviously, problems still exist.
Scam and Fraud Techniques
Those who supply counterfeit autographs can utilize a number of different techniques that range from crude to extremely sophisticated. Some forgeries today are so good that even the experts have a difficult time catching them.
What are some of these techniques? SportsMemorabilia.com has a short article entitled Avoiding Scams, Frauds and Forgeries when You Buy Sports Memorabilia that discusses four common methods: the Autopen machine, crude rubber stamps, pre-prints, and outright forgeries. As noted in the article, several of these are easy to detect if you are aware of what to look for.
Another article, called Top Ten Sports Collectibles Scams to Avoid, can be found at The Cardboard Connection. This article, as the title implies, discusses ten scamming and fraud techniques used in the sports memorabilia industry. Among the ten, the author describes fakes and forgeries; cracking open an "uncirculated card" case and substituting a high-value, lower quality card; reprints and misrepresentations; as well as eBay (or other auction site) "shill bidding," pushing up the price of an auction item by someone bidding on their own item.
Tools to Help Counter Scams and Fraud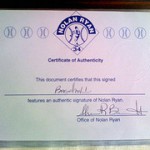 Over the past ten to fifteen years, a number of tools and techniques were developed by reputable companies to help fight against these difficulties. Two key processes, called grading and authentication, can be performed by highly-regarded organizations to help ensure the value and authenticity of an item of memorabilia. In most cases, once the characteristics of the item have been authenticated, the organization will issue a Certificate of Authenticity (COA) along with a tracking number that can be used by a potential buyer to verify that the item is what the seller claims it is.
Unfortunately, scammers have even been able to create fraudulent COAs that appear to be the real thing. To counter these bad COAs, many authenticating organizations also place a unique holographic image on the item to enable even further tracking and verification. In addition, many have built a large database that tracks each item. Buyers are able to access the database to verify that what they are purchasing was actually authenticated.
Major League Baseball took a big step in 2001, organizing their own authentication program. This has proven to be very successful and has become one of the major authentication services.
Use the Tools and Some Common Sense
So, if you plan to buy baseball memorabilia, make sure you understand the best methods you can employ to avoid getting something that is a fake. Some of this is common sense. Stick to organizations you feel you can trust, if possible. For example, if you are into trading cards, go to a trusted local hobby shop to buy your cards.
Before you go out and buy anything, I recommend you read a couple brief articles that might help you avoid fraud or scams. The first article is Sports Memorabilia Fraud (click on the Fraud Prevention Techniques tab) and the other is Avoid Fraud – An Autographed Memorabilia Guide.
If you have something to sell, have it graded and authenticated first, using one of the major, trusted service organizations. This will not only help protect you but it will also help get top dollar for your item(s).
Select an icon to share with others