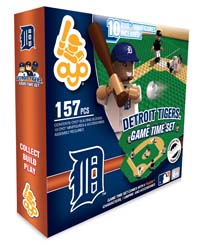 Baseball mini-figures and building blocks from OYO Sports make fantastic gifts for kids (and the young at heart, too). The OYO MLB Game Time Set is a great starter kit. For holidays, birthdays, or just as a surprise, these baseball figures will provide hours and hours of fun.
PRODUCT:       OYO Sports MLB Game Time Set
WEBSITE:          http://www.oyosports.com/
OWNER:            OYO Sports
PRICE:                 $59.99 reduced during Christmas season to $50.99
MY OPINION: 10 out of 10 stars
Game Time Set Contents
Game time sets are available for each Major League Baseball team. Each 157-piece playset includes 10 mini-figures (9 team characters – not specific players – and 1 umpire) and 11 accessory pieces (9 gloves, 1 bat, 1 ball).
The field platform is built from 136 building block pieces. Dimensions of the field are 15 inches by 12.5 inches. Printing on the field includes the team word mark and logo.
OYO baseball figures and blocks are designed for ages 6 and up.
Benefits
These toys have numerous positive elements, including: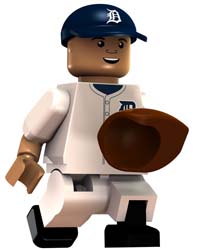 Flexibility – Mini-figures are designed with rotating arms and bending knees to allow them to be positioned as if they are batting, throwing, or fielding.
Sturdiness – Like other building block sets, they won't break easily and can endure a lot of abuse.
Compatibility – OYO baseball players and building blocks are compatible with Lego, Knex, and MegaBlock sets.
Expansion – Individual players from the team can be purchased separately and added to this team set.
Cost – Medium price – this entire set is normally $59.99 but listed at 15% off for Christmas 2014.
Drawbacks
A couple reminders if you purchase this product:
Size – Mini-figures and accessories are small and could easily be misplaced or get lost, especially in deep carpets or furniture. Keep them away from small children!
Similarity – If you already have large quantities of building blocks, these pieces could easily be absorbed into the vastness of the current toy set and become hard to locate.
Players – Though the mini-figures included have individual faces and carry team characteristics, they are not the popular players from the team; those must be purchased separately or in special groups.
My Analysis
OYO mini-figures are a relatively new toy but have quickly become very popular. They can blend your favorite sports team with an individual's imagination (child or adult).
Legos and other building block toys are very popular among children today. The compatibility of these baseball figures with existing building block toys makes each playset an exciting and fun gift idea.
Once you own a team set, players, mascot, and other items can be added. This expansion capability is awesome.
Since this product is designed and manufactured in America, quick turnaround can be achieved when a player changes teams/uniforms.
From my view, this is simply a very cool baseball toy set that can be used and passed on to others for many years to come.
Start your order now  by clicking on this link:
http://www.oyosports.com/
And, by the way, if you like minor league baseball, little league baseball, NFL football, college football, or hockey, you might find some interesting choices that you like in those sports also.
Summary
A wonderful toy that is available now. Availability should keep expanding. Be one of the first in your area to have this toy in your home.
Any questions or comments? Have you seen these relatively new figures? Please share your thoughts about my review or about this product in the comment box below.
Select an icon to share with others