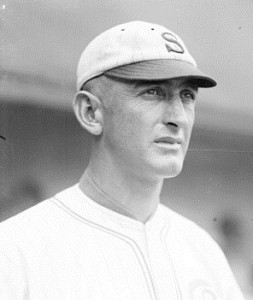 Goldin Auctions is currently auctioning off three unique pieces of Black Sox memorabilia. A Shoeless Joe Jackson autographed baseball is unique in itself, with only a few in existence that have been authenticated.
The auction began Monday, January 12 and will end on Saturday, February 7. Time is short, so consider your opportunity to obtain a rare treasure of baseball memorabilia.
The Ball – A Unique Piece of Baseball History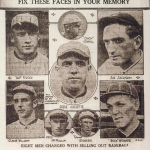 But the 1920 ball being auctioned by Goldin is signed by not only Shoeless Joe but also by five of the other seven "black sox" accused of agreeing to throw the 1919 World Series: pitchers Eddie Cicotte and Lefty Williams, who formed a mighty pitching duo for the White Sox, "Swede" Risberg, Buck Weaver, and utility player Fred McMullin.
In addition to these six players, 12 other "unblemished" White Sox ball players on the 1920 team signed the ball. The biggest signature among these players was Hall of Famer Eddie Collins. Amos Strunk, who joined the White Sox in 1920, and manager Kid Gleason round out the signatures.
A Contract and a Ticket
The other two pieces of memorabilia aren't quite at this same level of interest but still unique.
Lot #2 in this auction is a bi-monthly salary payment issued to Eddie Cicotte by owner Charles Comiskey. This was the last paycheck issued to Cicotte prior to the 1919 White Sox World Series scandal.
At age 35, Cicotte was nearing the end of a very solid career. His 1919 salary was only $6,000, which wasn't bad at that time but was below what many others were being paid. He was very irritated with Comiskey, as were the others, because the owner was significantly underpaying his high-performing team.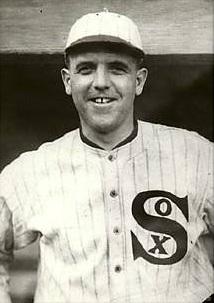 For that reason, Eddie was quite easily enticed to participate in fixing the World Series. He was Chicago's starting pitcher in game 1 of the World Series. To signal the gamblers that the fix was on, Cicotte purposely hit the first Cincinnati batter he faced.
That brings us to lot #3, a game 1 ticket for the 1919 World Series, which opened in Cincinnati. The person who bought this ticket paid only $2.20 for it but got to see one of the most famous and significant games in baseball history – including Cicotte's signal to gamblers across the nation that the White Sox intended to throw the World Series.
To learn a little more about these items, watch this short YouTube video from the Mint Condition show:

Memorabilia Authentication
The 1920 signed baseball comes with Letters of Authenticity (LOA) from both PSA/DNA and JSA, two of the leading authenticators of athlete signatures in America. Though a Shoeless Joe Jackson autograph is very rare, this is one of only two baseballs known to exist that have signatures from multiple members of the 1919 team.
Cicotte's $476.25 check is encapsulated to protect it from further wear. It is graded by PSA/DNA as NM-MT 8, meaning it is in very good condition. Both Comiskey's signature on the front of the check and Cicotte's endorsement on the back side are clearly legible.
The game 1 ticket has also been encapsulated. It is torn on the ends and shows the wear of 90+ years, yet it has been graded as AUTHENTIC by PSA/DNA. It should be noted that scalpers outside the stadium were making a killing on tickets at this game. Since rumors about the possible fix were spreading before the game started, the person with this ticket could easily have made upwards of $50.
What Do You Bid?
Minimum bid for the autographed baseball was $25,000. As of today, January 17, the current high bid is $46,000. Goldin is expecting this piece to get into six figures. Remember that Shoeless Joe Jackson memorabilia typically goes at a high price.
Cicotte's check had a minimum bid of $2,500. At this point, only two bids have been submitted with the top bid at $2,750. It would not surprise Goldin to have this piece of history sell for $10,000.
Four bids have been made so far on the game ticket. While the auction organization believes this piece may go for $5,000, the current high bid stands at $1,300.
It will be very interesting to watch what happens to these unusual items as the bidding process nears its end on February 7.
Your Opinion Please
Personally, I would love to have any one of these items. I believe the expectations of Goldin Auctions are probably not far from what will happen.
So, if you had unlimited funds, what would you be willing to pay for one of these items? Would you be excited to own a Shoeless Joe Jackson autographed baseball? Please share your thoughts in the comment area that follows.
Select an icon to share with others