Tabletop baseball games have been around for almost 150 years! As a result, we have many styles of awesome baseball games to choose from today.
The first patented baseball game was simply called Game Board, which operated as a pinball type game. It was developed by William Buckley and patented in 1867.
One year later, Francis Sebring obtained a patent for his Parlor Base-Ball game. Again, this was pinball-style but used a penny in place of a ball.
Unfortunately, neither of these games exist today.
Milton-Bradley produced the oldest surviving tabletop baseball game. It was patented in 1869. Another pinball-style game, The New Parlor Game – Base Ball was created by Metcalf Sumner.
Games utilizing dice and cards followed about 15 years later in 1884.
Many Different Styles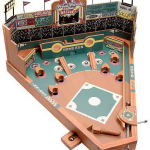 A Brief History of Tabletop Baseball, published in 2011 by Baseball Games, stated, "Through the years, few themes have generated the production of as many different board games and card games as has baseball."
In fact, over the past 150 years there have been baseball games that utilized dice, cards, spinners, darts, pinball, and computers to determine the outcome of plays. Their operation has been electrical or mechanical in nature, or simply required hand dexterity.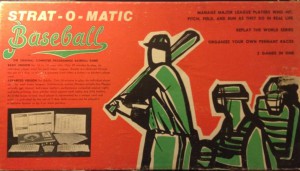 Simulation games, ones that utilize actual player statistics as the basis for determining the outcome of a play, came into existence around 1961. That is when Strat-O-Matic introduced a board game that some now consider to be the ancestor of fantasy baseball.
Today, you can find numerous board games, online games, or mobile device apps that simulate baseball games by using historical statistics for players.
Super Awesome Games
This area will focus primarily on tabletop or board games. It will occasionally include baseball games that are played through other formats.
I hope it will introduce you to some games that can bring enjoyment to you, someone else you care about, or just serve to help you add to your baseball collectibles.