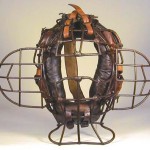 Historical baseball memorabilia can be traced back to its origins more than 200 years ago.
Did you know that baseball was first mentioned in the United States as part of a 1791 ordinance in Pittsfield, Massachusetts? At least that is the first known mention of the game.
The ordinance banned playing baseball closer than 80 yards from the town's meeting house (from Wikipedia, History of Baseball in the United States).
It Provides Great Memories
Baseball has a rich history in this country. It has changed a lot over the years, yet the images and personalities remain etched in our minds. We celebrate our team winning. We feel crushed, at times, when our favorite player strikes out.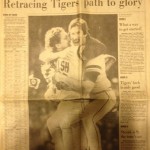 My favorite baseball memory is this: It's July 1968. My friend and I are sitting in the third row of the upper deck in left field at Tiger Stadium.
The Tigers, who have been coming back in the late innings all year to win ballgames, trail 3 to 2, with a man on and two outs in the bottom of the ninth.
Tommy Matchick, an all-field, no-hit shortstop comes up to bat. He works the count to 3 and 2 and proceeds to foul off about five pitches. The crowd is anxious.
Tommy lifts a towering fly ball to right field. Frank Robinson, right fielder for Baltimore, goes back to the wall and is standing there, pounding his glove. The ball hangs in mid-air as the sellout crowd lifts off their seats, everyone holding their breath.
Old Tiger Stadium's right field upper deck hung out over the field by about six or eight rows and, wouldn't you guess, that fly ball landed in the first row of that overhang. It was Matchick's first career home run (he only ever hit four), a game-winner.
The crowd went wild. People turned and hugged the person next to them, not caring who they were or what they looked like. That turned out to be one of the key hits of the season as the Tigers pulled away from the Orioles and went on to become world champions.
It's a memory that is still vivid in my mind. That Tiger team helped ease the tensions in the city, which had been strained by riots just a year previous. Detroit needed a winner that year.
It Provides Rich Stories and Interesting Products
With all this history, all these memories, it is not surprising that people want vintage baseball memorabilia.
At the end of the 2014 season, for example, a number of players retired, adding more memorabilia to the mix. These included Derek Jeter, Paul Konerko, Carlos Zambrano, Adam Dunn, Eric Chavez, and Jim Thome. Several of the well-known players who retired in 2015 include Tim Hudson, Barry Zito, Dan Haren, Torii Hunter (one of my favorites), Aramis Ramirez, and Jeremy Affeldt.
2016's retirees were led by David Ortiz, of course, but also included Alex Rodriguez, Mark Teixeira, Prince Fielder, David Murphy, and David Ross, among others. Along with the players, we cannot forget to mention broadcasters Vin Scully and Dick Engberg.
There is a lot of baseball history available for sale, some very pricey, some within reason. In this part of my website it is my goal to share some interesting stories and history related to baseball memorabilia.
I hope you find it as interesting as I do.