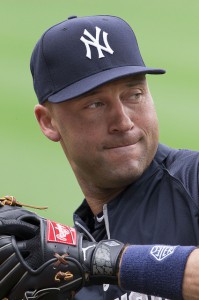 Derek Jeter played 20 seasons for the New York Yankees. To honor his retirement, Steiner Sports is having a Derek Jeter memorabilia sale.
Anyone who knows anything about baseball recognizes the name Derek Jeter. He helped lead the Yankees to five World Series championships during his career.
Whether you love or hate the Yankees, you have to admit that Jeter has been one of the best these past 20 years. Not only was he a great ballplayer, Derek has also proven to be a consummate professional, avoiding major controversy while playing his entire career in media-frenzied New York.
In Case You Didn't Know
Jeter was born in New Jersey in 1974 but spent most of his childhood and youth in Kalamazoo, Michigan, a little more than an hour south of where I grew up. He was drafted out of high school in 1992 and made his first major league appearance three years later. In 1996 Jeter won Rookie of the Year honors as the Yankees took the World Series.
Even with all the great players who have worn Yankee pinstripes, Jeter stands out as the career leader in at bats, hits, doubles, times on base, total plate appearances, games played, and stolen bases. He was selected as an All-Star 14 times and won five Gold Glove awards along with numerous other accolades.
The Jeter Collection at Steiner Sports

Derek Jeter is a Steiner Sports exclusive athlete. The Jeter Collection consists of a wide range of Derek Jeter merchandise including collectibles starting under $10 up to autographed memorabilia costing thousands.
I present here a small sample of these items, all of which are available online at SteinerSports.com.
Passing Gehrig Collage
Product: Framed 10×20 Derek Jeter Moments: Passing Gehrig Collage
Price: $59.99
Guarantee: Steiner Sports is official media partner of Derek Jeter and NY Yankees
On September 11, 2009 Derek Jeter, hitting with his classic inside-outside swing, grounded a ball past first base for a record-setting hit. The hit moved him past Lou Gehrig into first place in career hits as a New York Yankee. Gehrig had held the record for 70 years.


This collage pictures Jeter approaching first base on that big day. It includes a logo of his now-famous #2.
This is a framed collage measuring 10×20 inches.
Though not signed, this collectible item would be a great addition to your collection. It would also be a wonderful gift for some other Yankee fan.
You can find numerous other collage collectibles in The Jeter Collection.
Game Model Career Statistics Bat
Product: Derek Jeter Game Model Engraved Retirement Logo Stat Bat
Price: $199.99
Guarantee: Tamper-evident Steiner Sports hologram
Steiner Sports presents this Louisville Slugger game model bat in honor of Jeter's retirement.
Derek was possibly the best clutch hitter to ever wear a Yankees uniform, earning him the nickname "Captain Clutch." He consistently came up big in critical situations, including the post-season.
The bat is engraved with Jeter's signature and retirement logo. It also includes his career statistics in at bats, runs, hits, home runs, runs batted in, and stolen bases.
This bat would be a cool centerpiece for smaller collections.
Autographed Retirement Statistics Bat
Product: Derek Jeter Autographed Game Model Engraved Retirement Logo Stat Bat
Price: $1,299.99
Guarantee: Accompanied by tamper-evident Steiner hologram
How much is Derek Jeter autographed memorabilia worth to you? This bat is similar to the collectible item listed previously, however, it has been personally signed by Jeter right next to his career statistics.


Similar to the unsigned logo bat, this bat is also engraved with Jeter's retirement logo and includes his career statistics in at bats, runs, hits, home runs, runs batted in, and stolen bases.
The signature is guaranteed to be authentic by Steiner Sports.
Derek finished 6th all-time in career hits, racking up 3,465 during his illustrious career, so by purchasing a bat with his signature, you are buying the autograph of one of the top hitters of all time.
Autographed Game Model Embroidered Glove
Product: Derek Jeter Autographed Game-Model Multi Stat Embroidered Glove Gold Edition
Price: $1,999.99
Guarantee: MLB authenticated; Steiner Sports Certificate of Authenticity
Five Gold Glove awards show that Jeter was not only a consistent hitter but also a very able and consistent fielder. As a shortstop, he handled many balls hit in his direction and often had to make the long throws over to first base. He had a good, accurate throwing arm and good range.

"The Captain" personally signed this Rawlings glove on the inside of the fourth finger (pocket side). Writing on the glove notes the dates of his Rookie of the Year, All-Star MVP, World Series MVP, and Gold Glove awards.
Jeter's autograph is guaranteed authentic by Steiner Sports.
A Steiner Sports Certificate of Authenticity comes with the purchase of the glove and includes a tamper-proof Steiner hologram.
Share Your Thoughts
Derek Jeter has been the type of player that fits the hero role well. Good player, good attitude, lengthy and successful career, loyal to one team the whole time.
Perhaps you would like to be the owner of a Jeter collectible or memorabilia item. Just click one of the links and you'll be carried to Steiner's website. Once there, click on The Jeter Collection to begin shopping.
If you have a specific memory about Derek Jeter that you would like to share, please do so using the comment box below. I would love to hear from you.
Select an icon to share with others