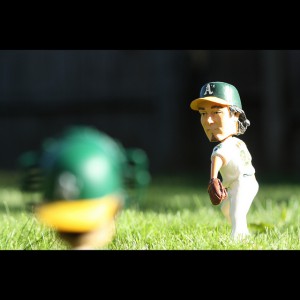 Bobblehead dolls are great collectible items and fun to give as gifts. You can find baseball bobbleheads on sale at a number of online sports sites.
These fun collectibles have become a standard giveaway item at major league baseball games.
They are easy to find, whether you want to purchase one for your personal collection or to give as a gift. Bobbleheads are a fun addition to any baseball collectible set.
Early Baseball Bobbleheads
Bobbleheads were originally called nodders due to the swaying motion of the head. They also have been called wobblers.
Prior to 1960, a few bobbleheads were developed for baseball purposes but these focused primarily on team mascots. Major league baseball first officially introduced baseball player bobbleheads for the 1960 World Series, coming out with nodders for Mickey Mantle and Roger Maris (New York Yankees), Willie Mays (San Francisco Giants), and Roberto Clemente (Pittsburgh Pirates).
In the 60s, many of the items produced were either made of ceramics or were painted paper-mâché. The heads were often similar with little concern for the features of the actual player, though this was not true of the World Series bobbleheads.
Becoming a Fan Favorite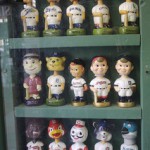 During the 1990s, production of bobbleheads increased significantly due to new manufacturing processes that used plastic to reduce the cost of these collectibles. New technology also helped make the dolls look much more realistic.
The San Francisco Giants provided the first bobblehead giveaway in 1999 when 35,000 Willie Mays nodders were handed out at a game. Bobbleheads became an instant hit with the fans and the market for these dolls blew open.
Why did bobblehead dolls grow in popularity so quickly? Perhaps the main reason is that baseball teams at all levels began to set promotional days with a player bobblehead as the prize.
Another key reason is that the purchase price has typically remained within the budget of a normal household, making them widely available to the general public. In addition, they are just plain fun to watch or play with, whether they sit on the dashboard of your car of on a shelf in your home.
Bobbleheads Today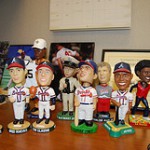 If you search for baseball bobbleheads today, you will find several options or types of dolls. Team mascot nodders continue to be produced. In fact, you can probably find a mascot nodder for any professional team you support.
A second option is a bobblehead designed around a winning team. This doll may be a special design focused around the team logo or one of the championship players. It will typically display the team and year as opposed to a single player name.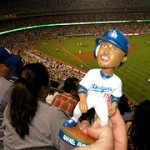 Probably the most common and sought-after style today is the player bobblehead. It is quite common for major league teams to establish a number of bobblehead giveaway days during a season. In 2014, for example, the Los Angeles Dodgers scheduled eight bobblehead promotional days. These giveaways help attract fans and also promote the team's image.
Player bobbleheads provide you with additional options. You may want to pursue vintage nodders that were produced around players of a previous era or you may want to focus on current players.
One great point about the bobbleheads being produced today – they aren't all focused on the superstars. In fact, you might be a bit surprised to find out how many different players on your favorite team have had a doll made in their image.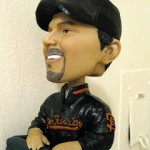 You may also find manager bobbleheads and announcer bobbleheads in your search.
By the way, in case you don't know this, you can have a custom bobblehead made in celebration of someone's baseball achievement. Custom dolls can be purchased through a number of manufacturers, all of which are easily found with a "custom bobblehead" web search.
Finding a Sale Price
Bobbleheads are available through many outlets. Probably the best sale you will find is at MLB.com. They are offering a buy one, get 50% off on a second bobblehead sale.
So go take a look.
Just click on the MLB.com banner and when you get to the website, click on the Collectibles tab.
You might find one (or more) that you really like.
Whatever you do, enjoy the prize. Bobbleheads are a blast!
Select an icon to share with others