When it comes to custom baseball gifts, this may be the ultimate hands-on gift. Real Play pinball baseball, perhaps the most realistic of all mechanical baseball games ever built. It's a unique gift that will set your baseball-loving spouse, partner, friend, or coach apart from everyone else!
Real Play Baseball is designed, patented, and built by Richard Quint, founder and owner of Quint Premier Baseball Games. His game was launched in 2013 at the 34th National Sports Collectors Convention in Chicago.
Excellent Craftmanship
Each baseball pinball machine that is created is hand-built by Mr. Quint, who numbers and personally signs each game. It is mechanical, not electronic, combining pinball with memorabilia, and is built to last for many decades.
To quote Mr. Quinn, "I built this game to be a great baseball pinball game, and also a collectible, a piece of furniture and quite simply the centerpiece for the greatest collection in the world."
Specifications and Customizations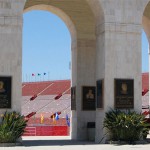 The game features a 1900s model replica scoreboard, a working clock, and seven golden arches, similar to those at the Los Angeles Coliseum, in the background. The arches area is intended to be used as a display area for some of your personal baseball memorabilia.
Another great feature is that the playing field is water-resistant. This could certainly be a life-saver if a beverage is spilled due to players begin deeply locked in a tight game battle.
Physical size of the game board is 41.5 inches by 41.5 inches. Ballpark fences are 5.5 inches tall. The rear scoreboard is 32 inches wide and 18 inches in height. The game weighs between 50 and 70 pounds.
Each beautifully hand-crafted game can also be customized by:
Personalizing the game with your name, team, business, school, and/or stadium name
Choosing one of five backgrounds: red brick, ash wood, yellow, black and white checkerboard, and 50s collage
Adding stadium lights for a nighttime experience and/or a 21-inch mesh fence
Playing the Game
The style of this game is based on vintage pinball-type baseball games. Though it can be played solo, it is intentionally built for two or more players, without the use of electronics, to allow for maximum engagement and baseball realism.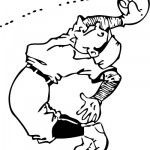 Players choose their team and fill out a lineup card. As the game progresses, players track balls and strikes, outs, base runners, and innings.
As in most pinball-style games, a spring-loaded device is used to pitch the ball. Using an adjustment lever, however, the pitcher can make the pitch go inside or outside. Speed of the pitch can also be varied.
Hitters swing the bat by pulling on a lever. If the swing is timed properly, the ball can be hit in any direction on the field. Balls and strikes can be called, or if the ball is hit, there are numerous pockets that count as ball, strikes or hits.
Launching the ball up a stainless steel ramp and over the fence constitutes a home run.
If the ball disappears into a hole, it is an out and the ball is returned to a front pocket area.
Take a Look For Yourself
To understand more about this unique game, view the following video, taken at the 2013 National Sports Collectors Convention.
Ordering Your Gift
Custom baseball gifts don't get much better than this! This gift is high quality and unique.
To order or get pricing information, contact Mr. Quint by clicking the following website link and filling out the Contact Us information: Quint Premier Baseball Games.
Select an icon to share with others